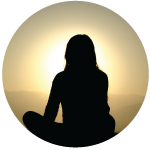 The Witness and the Wisdom Journey Within
A three week journey that will explore the movement from focusing on the outer world toward a greater awareness of the deep and wise spaces within.  There you will find and get to know the Witness, the connection to the ground of being.  Getting in touch with this inner wisdom will provide a sound basis from which to answer the question, 'How Then Shall I Live?
Workshop Leader: Jerry Burgess

Jerry earned an MBA from the University of Cincinnati and then became a serial entrepreneur – founding six different healthcare companies.
Jerry's interest in his spiritual journey spans four decades, marked by many important moments, but none more important than a time 13 years ago that produced a profound inner transformation, opening his mind and heart to a deeper and more meaningful life as well as bringing a certain measure of wisdom and compassion.
In this workshop, Jerry will share his experience of finding and getting to know that Inner Witness, and ways each of us can find and work with our Witness to give direction and guidance to our live
Interested in  The Witness and the Wisdom Journey Within Workshop at the Meaningful Life Center?
Dates:   3 Wednesdays beginning February 7 – February 21 & 28
No meeting February 14 (valentine's Day)
Time:   6:30pm to 8:00pm
Location:  Meaningful Life Center
      116 Carr St.
       Knoxville, TN
To register or for more information:
Please complete the form and select the Workshop(s) you are interested in.
When completing the form please use the message space to indicate if you are registering or seeking more information so that we can best serve your needs.
Someone will be in contact with you shortly.  Thank you for your interest!