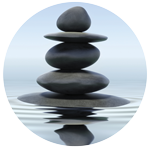 Using the 12 Steps for Learning and Growth
Giving In and Getting Whole
The 12 step programs are valuable tools to help people deal with issues that keep them stuck. The awareness and use of these steps can help anyone on their life journey toward a spiritual awakening.
Workshop Leader: John Berry
John has been teaching 12 step programs for over 30 years and has developed ways to help all who are interested in using its insights for personal growth.
John worked in the Audiology department of the University of Tennessee for 10 years, coordinating a number of programs. He left UT to found Blount Hearing and Speech Services, which has served over 20,000 patients in the past 35 years. John is also the co-founder and CEO of the Hearing and Speech Foundation, an institution that focuses on conducting research to provide a better understanding of human perception and in so doing to improve the field of audiology.
John has taught courses on surrender and forgiveness at Blount Memorial Hospital for many years in their recovery programs.
Interested?  Please consider joining The Value of Surrender and Forgiveness Workshop.

Date: 5 Wednesdays beginning April 4
Time: 6:30pm to 8:30pm
Location:  Meaningful Life Center, 116 Carr St., Knoxville, TN 37919
To register or for more information:
Please complete the form and select the Workshop(s) you are interested in.
When completing the form please use the message space to indicate if you are registering or seeking more information so that we can best serve your needs.
Someone will be in contact with you shortly.  Thank you for your interest!