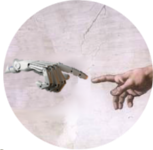 Science and Spirituality: Friends or Foes?
Albert Einstein wrote:   "The fairest thing we can experience is the mysterious. It is the fundamental motion which stands at the cradle of true art and true science."   Join us as we explore how the mysteries and discoveries of Religion and Science can help inform and guide the process of creating your own unique and personal meaningful life.
This workshop will explore the intersection and divergence of thought arising from the human quest to answer the most fundamental questions about the universe through science and through spiritual paths. We will focus on the meaning of space, time and the physical world through scientific and spiritual lenses and explore the potential for how interaction with technology can aid and detract from our development as individuals and a species.

There is no requirement for any particular knowledge or background in science or commitment to a spiritual practice to participate in this workshop.

Workshop Leader: Bobby Gintz
Bobby is a veteran of the computer communications and robotics industry with over 35 years of experience. He has led and contributed to all aspects of technology product development, design, and marketing. He holds a Bachelor's degree in Electrical Engineering a Master's degree in Computer Science and an MBA Master's in Marketing and Project Management. He served as VP of Development for Equinox Systems and led engineering for Northrop Grumman Remotec. He is also a commercial pilot and certified flight instructor. He participates in community theatre and mentors Bearden High School's FIRST Robotics Team. Bobby is a long time meditator and Yoga devotee. In childhood he was found to be both Dyslexic and Ambidextrous. In recent years he has discovered that striving for balance between the characteristically analytical "left brain" and creative "right brain" is one path towards a more fulfilling and meaningful life. This realization led to the creation of the "Science and Spirituality" workshop.
Date: 3 Thursdays beginning March 1
Time: 6:30pm to 8:30pm
Location:  Meaningful Life Center, 116 Carr St., Knoxville, TN 37919
To register or for more information:
Please complete the form and select the Workshop(s) you are interested in.
When completing the form please use the message space to indicate if you are registering or seeking more information so that we can best serve your needs.
Someone will be in contact with you shortly.  Thank you for your interest!