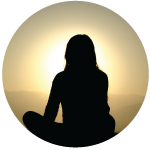 Meditation for Experienced Practitioners
Deepen Your Practice
Meditation is a practice that helps us delve deeply into our minds and hearts to cultivate compassion for all beings and broaden our awareness of how we create suffering for ourselves and others. Through meditation we develop our capacity for mindfulness in daily life and experience a greater acceptance of the change and uncertainty that life brings.
The group is intended for those who have some experience in meditation, whether they have practiced with other groups or mostly on their own. We find that sitting for a full hour with a group of supportive people can help bring greater steadiness of mind than might be possible with shorter sits.  There are no guided meditations or teaching. At the end of the period all participants are invited to  enjoy light refreshments and informal conversation in the kitchen of the Meaningful Life Center.
Workshop Leaders: Barbara Roberts and Colleen Vaughn
Barbara Roberts is a long-time meditator who has studied with teachers in several Buddhist traditions. She has attended numerous silent meditation retreats over the past 20 years
Colleen Vaughn has studied and practiced meditation intensively since retiring from veterinary medicine.
Interested?  Register below
Format: New participants welcome at any meeting
Times: Fridays – 10:00 to 11:30 am
Dates: On-going Program
Location:  Meaningful Life Center, 116 Carr St., Knoxville, TN 31919
To register or for more information:
Please complete the form and select the Workshop(s) you are interested in.
When completing the form please use the message space to indicate if you are registering or seeking more information so that we can best serve your needs.
Someone will be in contact with you shortly.  Thank you for your interest!