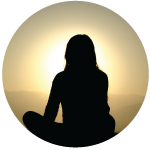 Introduction to Meditation
Beginning Meditation Class
If you've wanted to learn how to meditate but don't know where to start, or if you've meditated on your own before but would like to receive some instruction and also experience the benefits of sitting with a group, please join us for this introductory class on meditation.
There are many reasons why developing a regular meditation practice benefits our mental and physical health. Some of the scientifically established benefits of meditation are a reduction in anxiety and depression and an improvement in cognitive abilities. Meditation helps us develop our capacity for happiness and balance in everyday life.
Course Leaders: Barbara Roberts and Colleen Vaughn

Barbara Roberts is a long-time meditator who has studied with teachers in several Buddhist traditions. She has attended many silent meditation retreats over the past 25 years.
Colleen Vaughn has studied and practiced meditation intensively since retiring from veterinary medicine.
If you have any questions about this class or aren't sure whether it's right for you and would like to know more, please email Colleen Vaughn at 3graces@3graces.me
Interested? Please consider joining the Beginning Meditation Class
Dates: 6 Fridays beginning January 5, 2018
Times: 11:30am to 12:30pm
Location:  Meaningful Life Center, 116 Carr St., Knoxville, TN 31919
To register or for more information:
Please complete the form and select the Workshop(s) you are interested in.
When completing the form please use the message space to indicate if you are registering or seeking more information so that we can best serve your needs.
Someone will be in contact with you shortly.  Thank you for your interest!