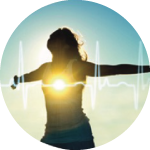 The Heart's Intuitive Intelligence
A Path to Personal, Social and Global Coherence
An interactive workshop to learn about the intelligence and power of our hearts
Participants will learn and practice techniques to increase self-awareness and to be conscious of the intuitive intelligence of the heart. Biofeedback technology will be used to help affirm the techniques' effectiveness. Workshop sessions will build on each other, so attendance is recommended at all four sessions. Exercises, talks, and slide presentations are based on the HeartMath Resiliency Advantage™ Program developed by the Heart/Math Institute during more than two decades of research. On the personal level, the goal is to develop the heart's intuitive intelligence; that leads to coherent social connections that make possible sustainable global peace.
Workshop Leader: Barry Richmond
Like many folks, Barry spent years engaged in a variety of work: busboy, cattle feeder, Christmas tree trimmer, plumber, electrician, energy management tech, and business owner. He also spent more than 30 years in the military. Barry's jobs often intersected with his inner journey, but they were more often distractions that demanded a great deal of his time and focus. Nearly a decade ago, Barry refocused his inner journey and was called to spend more time exploring the wisdom and power of his heart. His efforts included a week in Boulder Creek, California, at the HeartMath® Institute where he trained in the Resiliency Advantage™Program. Since then, Barry has received additional training in HeartMath® personal coaching and has attended the Institute's Global Coherence Conferences.
Interested? Please consider joining The Heart's Intuitive Intelligence workshop
Date: 4 Wednesdays beginning March 14
Time: 6:30pm to 8:30pm
Location:  Meaningful Life Center, 116 Carr St., Knoxville, TN 37919
If you want a good overview of HeartMath, take seven minutes to watch this short video.
To register or for more information:
Please complete the form and select the Workshop(s) you are interested in.
When completing the form please use the message space to indicate if you are registering or seeking more information so that we can best serve your needs.
Someone will be in contact with you shortly.  Thank you for your interest!